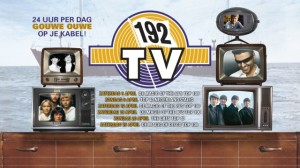 In de maand april is 192TV 'zender van de maand' bij Ziggo en KPN. Dat betekent dat de muziekzender bij Ziggo niet alleen te zien is op het vertrouwde kanaal 360 maar ook op het 'open' kanaal 13 en bij KPN behalve op het vaste kanaal 414 ook op het 'open' kanaal 20.
Ter gelegenheid hiervan heeft 192TV een aantal specials gepland voor de maand april:
Zaterdag 5 april – Magic of the 60's Top 100
Zondag 6 april – Top 40 Nederlandstalig (gepresenteerd door Gerard Cox)
Zaterdag 12 april – Magic of the 70's Top 100
Zaterdag 19 april – Magic of the 80's Top 100
Zondag 20 april – The Cats Top 40
Zaterdag 26 april – Magic of Disco Top 100
Televisiezender 192TV neemt de kijker mee terug in de tijd met 24/7 'gouwe ouwe' muziek; clips en TV optredens van alle artiesten uit de jaren '50, '60 en '70, afgewisseld met originele jingles uit die tijd. Maar ook de jaren '80, '90 en de hits van de laatste tien jaar komen voorbij op 192TV. Dat dit gewaardeerd wordt blijkt niet alleen uit de constant hoge kijkcijfers maar ook uit de stroom reacties die dagelijks binnenkomen op de burelen van het populaire televisiestation.